The Bessie (Soucek) Bell Home Page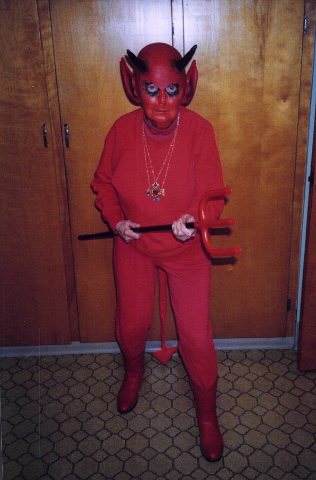 Welcome to Bessie E. Bell's Home Page!

For now, everything that you see here has actually been posted on the web by me, her son Tom.  Mom agrees with the idea of HAVING her own web site, but she herself is not yet online.  Whenever possible -- ESPECIALLY with recipes (since MY knowledge of recipes is minimal), this site will be "word-for-word" what she dictates for me to place here.

The picture on the left is Mom (Bessie) in her Halloween costume (for a church party) in 1997.  There was some debate about the appropriateness of wearing a devil costume to a church party, but she was a big hit.

(I have only a few web-ready pictures, and Mom chose THIS one.  I suggested a more formal picture, but she stood firm.)

One of the purposes of this web site will be to share recipes, and in fact, the very FIRST entry on this "Bessie (Soucek) Bell Home Page" was her
Sour Dough & Recipes
page.  Mom has shared her sour dough, recipes, and especially her biscuits and coffee cake with many, many friends and neighbors.  (For those of you who are new to the internet -- such as my mom -- you get to the sour dough recipes from here by moving your pointer to over the blue words and then "clicking" your left mouse button.)  You can also find her popular recipe for
Casserole Bread
, as well as her recipe for
Potato-Wiener Casserole
(this will save ME from having to e-mail this recipe to people).
Bessie now has her own personal e-mail address, but since she's not online it will depend upon me printing out her mail and taking it to her -- so it probably won't be as speedy as normal e-mail.  The address is "bebell@iname.com", or you can use the link below (this link will not function with certain browser programs).

And, for the first time anywhere, there are now written instructions for how Mom and Dad made "
Green Tomato Dills
".
(Bessie is not at all keen on having a "counter" on her site, so while there IS a number below, it's really just for monitoring purposes, and does not accurately reflect the total number of visitors to this site.)